Research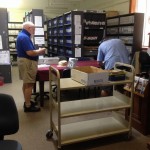 The Research Centre contains a wealth of information for both local history and family history researchers. Some of the information in our files is accessible through searchable Indexes, developed by our volunteers.
Unfortunately, at the moment we can only accept written research requests as our Research Centre is temporarily closed while the Museum undergoes flood remediation.
Written research requests are completed by volunteer researchers. A fee of $30.00 is charged for each topic researched.
To request research on your behalf, simply print out and complete the Research Written Request Form and forward it by mail to the Research Centre with payment by cheque. Alternatively, you may pay by direct deposit – our bank details are on the form – and email the form to research@richhistory.org.au.
For requests from outside Australia please use the Overseas Written Research Request Form.
Results of requests, prepared by volunteers, can take six to eight weeks.
Additional fees
Written enquiries include 5 photocopies plus p&p
Additional photocopies – 40c for A4 and $1 for A3