About RRHS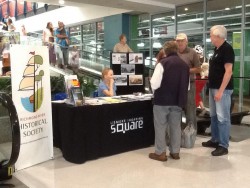 Mission Statement
The Richmond River Historical Society's (RRHS) mission is to collect, preserve, display and disseminate historical material relevant to the continuing history of North Eastern NSW.
District
Centred on the city of Lismore, the district served by the Society is the Richmond River region, extending from the head of the river at Woodenbong to the mouth at Ballina. It encompasses the former Big Scrub area east of Lismore, national parks, grazing and farming country, as well as cities, towns and villages with a population of 140 000.
History
The Richmond River Historical Society Inc. (RRHS) was originally founded in 1936. It was one of the first three historical societies formed in New South Wales outside the Sydney region. After going into recess during World War II, it was reconstituted in 1953 by Louise Tiffany Daley, an American who was also responsible for establishing the Society's museum. Originally housed in Conway Street for several years, the Society moved to the Trench Building (until recently home of the Lismore Regional Art Gallery) in 1956, and finally in 1993 to its current location in the Lismore Municipal Building, in premises provided by Lismore City Council.
 What we do
RRHS consists entirely of volunteers who maintain, develop, interpret and promote the collections of the Lismore Museum and its Research Archives. We assist several hundred researchers who visit each year, and we also handle research enquiries lodged electronically. The Society produces a quarterly Bulletin containing historical articles, as well as a weekly historical feature in the Northern Star. We have published some thirty books on local history. Other major ongoing projects include cataloguing and indexing the Society's resources, digitising the photograph collection, maintaining and developing exhibitions, and conserving collection items. The material held falls into two categories:
The Museum Collection – mainly artefacts
The Research Collection – mainly paper based, including books and photographs
Organisational Structure
The Society has a Management Committee that meets on a monthly basis. There are elected positions for President, Vice-President, Secretary, Treasurer, and up to six general members. The Museum Coordinator and the Research Coordinator are usually part of the Committee. There is also a nominated Lismore City Council Councillor representative. The AGM is held on the last Sunday in May or the first Sunday in June each year. There are three other quarterly meetings, in March, September and December.
The Society has a number of distinguished Patrons: Mr Kevin Hogan MP;  Mrs Justine Elliott MP;  Mr Thomas George MLA;  Cr Isaac Smith, Mayor of the City of Lismore;  Professor Isabel McBryde.